OrbVie Portable System
What is it?
The OrbVie portable system is a refillable, battery-powered 5-litre mineral dispenser that delivers precision mineral dosing to any size herd. It does not need a mains power supply. It is a mobile, single, self-contained sealed Orb that has no leads or wires. It contains a long-life rechargeable battery (One charge lasts 2 months+) This is dropped into a single water trough releasing the liquid mineral blend into the drinking water below. It is suitable for use in sheds or in fields.
Easy to use – no installation required
App-controlled
Auto dose one mineral blend
Set herd numbers
Set dosage rate
Doses to preset water consumption patterns
Floats in the water
Easy to fill
Suitable for all weather conditions
Portable (for use indoor and outdoor)
Exact Dosing
Reduce Labour
Easy to re-order minerals
Minimal Waste
Refill & Battery Charge reminder notifications to your phone
Improves herd health
Increases profitability
Moves with your herd
"Overall the TERRA NutriTECH System helps my bottom line with less labour and better fertility"
IFAC Customer Report 2020
How it Works
The OrbVie portable system doses to preset water consumption patterns for increased accuracy and then calculates the correct mineral concentration for your herd. It disperses one mineral blend into the water supply and follows consumption patterns to ensure the herd receives an adequate dose. It has a long-life battery that sends a notification to the app when it needs to be recharged.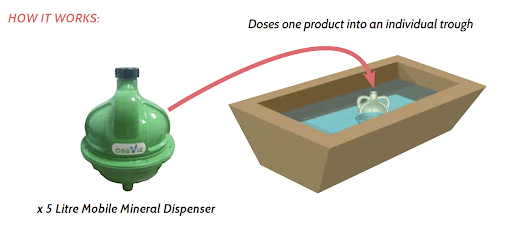 Start Screen
Confirm Orb refilled to verify /change settings
Settings
Change Livestock Units Save
Settings
Choose product and rate
Settings
Choose herd type
Settings
Confirm choices and press start schedule
"Simply drop it in the trough & it works away itself, I just get an alarm when it needs to be refilled."
J Byrne, Co Wicklow
"A product you could see used on every farm "
R. Kavanagh, Co Kildare
Other Mineral Dosing Systems